Austroflamm Pellet Stove Upper Cast Wall - Z14912 G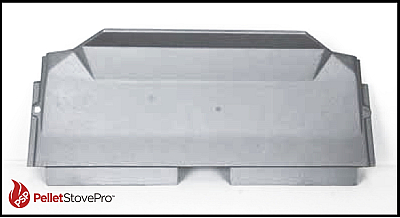 Product Code: m-302
Availability: In Stock
Austroflamm Pellet Stove Upper Cast Wall
Watch this Video...
Buy Your Part with a Partner
My name is Jason Munson and I?m a Stove Tech in California. 
 100% FREE 24/7 online Technical Help @ http://www.pelletstovepro.com
FREE, Live tech support at 844-409-5051.  Call NOW! 
I Promise?
To provide the highest quality part

To Price items fairly

To ship within 24hrs or less

To provide all the email and phone support you need.
Upper cast wall for Austroflamm Integra models up till 2004
---
---
---
My Promise to You?
I promise to provide a high quality product at a fair price that will last for years and years, shipped as quickly as possible along with all the phone and email support you require to get you up and running.

You can call me anytime

on my cell phone, (

844) 409-5051.

I?m always working and I never sleep!

(Ok, maybe sometimes.)

Ships within 24hrs (M-F) or less!

Tracking number emailed to you as soon as I print the shipping label.

No Sales Tax

saves you 8%

Faster Shipping options available at checkout.

Ships Internationally.

Return Policy.

All unused items can be returned for a full refund within 30 days of purchase.

Email or Call for instructions.

1 Year Warranty on all parts.
---
---
---
What other buyers say?.
?Hi Jason. I had a good experience with you. Even though you were sick, you responded on a Sunday and called me and gave me good tech. advice. My stove is working perfectly thanks to your advice and I left positive feedback. Thanks.? - Dan
"I had a very good experience doing business with Jason Munson on EBay. He had the part I needed, priced very competitively, and even gave me his phone number and offered to help with technical questions, which I took him up on. He then threw in an extra mounting bracket I needed, at the last minute, at no charge. On top of that, it was the day before Christmas Eve and he was able to ship it out promptly. I appreciated it very, very much." - Gary Jones. Lakeside, California
?You were a big help and got me on track. I ordered the wrong part from you, my fault, and I called you and helped me get my stove up and running. You helped me find a local dealer in pa. Great people to deal with!? - Brenda Storms
?My stove is performing much better than the part for which it replaced. Thank you!! ?- Gary Bailey
?I purchased an auger motor. My questions regarding the motor were answered promptly. The motor arrived packaged nicely and shipped quickly. The price for the motor was less than other stores web based stores that I had checked and called and the customer service was so much better.? -Estelle H.
Important! - Read Before You Buy - Important!
Wiring - If you have bought a motor your new motor may have a electrical plug that is different from you old motor. Cut the new plug off and splice the wires to the old wiring using your choice of electrical connector. It doesn't matter which wire goes to which as long as they are connected.
Returns - I accept returns 30 days from the date of purchase. You must contact me through eBay messenger BEFORE returning an item to obtain return documents and instructions. Any items returned without documents WILL NOT be refunded.
All Sales are Final. All negotiation of price and shipping must be made before you purchase your item. Once you purchase your item the price and terms cannot be changed for any reason, including if you find a less expensive competing item.
    Certain images and/or photos used in this template are the copyrighted property of JupiterImages and are being used with permission under license.