Whitfield Pellet Firebrick Cerra Board for Quest (Square) - OEM Part - 16-1016 G - 17250029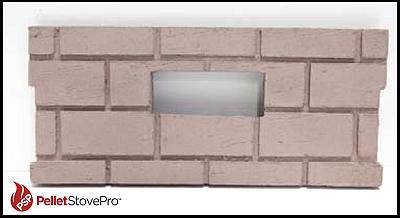 Product Code: m-101
Availability: In Stock
OEM Part - Whitfield Firebrick Cerra Board for Quest
Buy Your Part with a Partner
My name is Jason Munson and I?m a Stove Tech in California.
100% FREE 24/7 online Technical Help @ http://www.pelletstovepro.com
FREE, Live tech support at 844-409-5051. Call NOW!
Fits Whitfield Quest (w/ Square Shoot)
Ultra Flame Firebrick is the best firebrick available for Whitfield pellet stoves. Re-engineered to solve the softening problem of the original Cerra Board, Ultra Flame uses the same space age technology used for the tiles of the Space Shuttle.
Buy Now before the Price goes back up!
Ultra Flame has a seamless appearance and is color designed for light refraction which makes your flame look brighter. You can actually see the flame dancing better up against this firebrick when compared to any other brand.
Rock hard durability is gained by using a carbon and fiber weave throughout the material increases shock resistance and the expansion/contraction associated with your stove heating up and cooling down.
Click on ?Buy It Now?
Ultra Flame Firebrick is designed to be re-usable and won?t break down easily when your firebrick is removed for deep cleaning. Other firebricks are designed for single use. This gives Ultra Flame an expected lifespan of 15-20 years.
The new technology has increased efficiency so more heat is absorbed into the material to heat your home and less heat is exhausted out the chimney.
? 1 Year Warranty
? 15-20 Year Lifespan
? Same Day Shipping
? 30 Day Return Policy
? FREE Tech Support (Call or email Jason Munson at 844-409-5051)
? OEM Part
By your part with a Partner. My name is Jason Munson and I?ve been a pellet stove repair technician for over 14 years and have installed hundreds of motors. This is the same motor that worked in my pellet stove for 20 years.
Click on ?Buy It Now?
For helpful tips and troubleshooting see my blog www.pelletstovepro.com
Testimonials
? ?Hi Jason. I had a good experience with you. Even though you were sick, you responded on a Sunday and called me and gave me good tech. advice. My stove is working perfectly thanks to your advice and I left positive feedback. Thanks.? ? Dan
? "I had a very good experience doing business with Jason Munson on EBay. He had the part I needed, priced very competitively, and even gave me his phone number and offered to help with technical questions, which I took him up on. He then threw in an extra mounting bracket I needed, at the last minute, at no charge. On top of that, it was the day before Christmas Eve and he was able to ship it out promptly. I appreciated it very, very much." - Gary Jones. Lakeside, California
? ?You were a big help and got me on track. I ordered the wrong part from you, my fault, and I called you and helped me get my stove up and running. You helped me find a local dealer in pa. Great people to deal with!? - Brenda Storms
? ?My stove is performing much better than the part for which it replaced. Thank you!!? - Gary Bailey
? ?I purchased an auger motor. My questions regarding the motor were answered promptly. The motor arrived packaged nicely and shipped quickly. The price for the motor was less than other stores web based stores that I had checked and called and the customer service was so much better.? -Estelle H.
See my feedback rating for more?.
Important! - Read Before You Buy - Important!
Returns - I accept returns 30 days from the date of purchase. You must contact me through eBay messenger BEFORE returning an item to obtain return documents and instructions. Any items returned without documents WILL NOT be refunded.
All Sales are Final. All negotiation of price and shipping must be made before you purchase your item. Once you purchase your item the price and terms cannot be changed for any reason, including if you find a less expensive competing item.